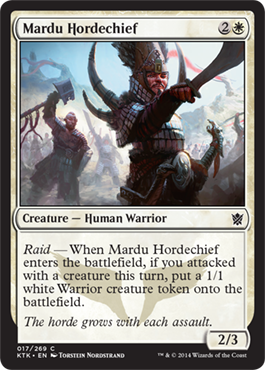 Damn good common Raid guy. Also the first Raid guy so far, so here's my opinion on Raid: I love it, best mechanic of the set. Okay, except maybe morph. Raid is great in that it's really easy to achieve if you have an aggressive deck. Even if you're on the backfoot, it might encourage you to toss a guy out there just to get some goodies. Like this guy for example, makes more blockers when you raid, so you can regain some lost momentum. Raid is probably gonna be a killer in the prerelease, like Unleash was a few years ago. This man in particular is the raid that keeps on raiding, as he gives you a worthless dork to charge to his death to activate raid some more. Perfect. Even if you don't get the raid, he's worth playing turn three.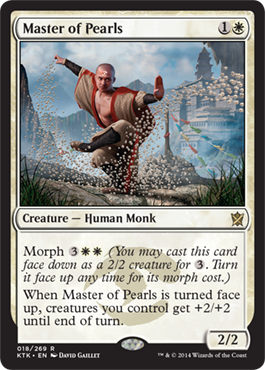 This sure is a nice alpha strike. Or unexpected boost on defence to turn the game around. Exactly what I like to see from a rare morph. I love morph, btw. Never played with it, but it seems just all hells of interesting, so I can't wait to try it. I love creature based combat tricks!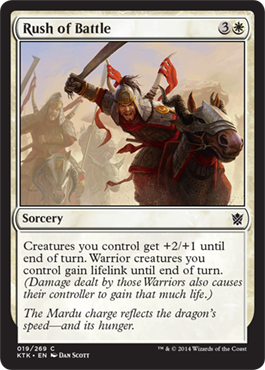 This is a similar boost but at common, and only usable for ATTACK! So mostly Mardu, a little Jeskai. The Warrior rider is odd for common though pretty nuts if you get it off on only one or two dudes.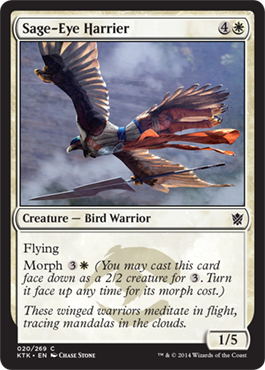 Good common morph. Use him for extra damage until that becomes unattainable, then flip for either good defence or some flying. Actually just good even as a four mana 5 toughness dude. And having surprise toughness in combat if you need it is always nice.
Tumblr's being fussy about putting more than like, four images to a post so I'm cutting this here. More to come!